By Truby Chiviello
https://www.wetheitalians.com/newsletter
NYS Senate Senator Jessica Ramos
Everyone loves a good parade.
Except Jessica Ramos.
The New York Democratic state senator, from the 13th district, in Queens, wants to put an end to good times on October 12th, or its equivalent date. She sponsors a bill, still in the finance committee, to end Columbus Day as an officially recognized holiday in New York. In place of the Italian American celebration will be Indigenous People's Day.
Not a holiday, mind you, in the traditional sense. Indigenous People's Day, as envisioned by Ramos and some others in the legislature, will reject festooned floats and marching bands up Fifth Avenue. Don't expect folks to trade in their mariner hats for feathered headwear. Don't expect children with smiling faces.
Indigenous People's Day is to be a day of commiseration.
Angelo Vivolo, president of the Columbus Heritage Coalition, held nothing back in his email late September informing Italian Americans about the pending legislation. He wrote that the "flawed legislative language relies on an invidious, divisive construct that pits one group against others. The bill cynically ignores the many positive contributions of the Spanish and Latino cultures to the Western Hemisphere and the hundreds of millions of immigrants who followed Columbus in search of a better life."
The effort in the state legislature to replace Columbus Day with Indigenous People's Day is not to be ignored, according to Mr. Vivolo. There is an identical bill in the state assembly to indicate passage in both chambers for a governor to sign or veto the bills.
Senator Ramos is the sponsor of Senate Bill S2759. She seeks October 12th, or its equivalent, the second Monday in October, to be a 24-hour period of mass resentment at the history of the United States. Ingratitude, not gratitude, is the overriding theme. Instead of thanking Columbus for connecting the New World with the Old, people are urged to curse the day Europeans made their way across the Atlantic.
Is the proposed legislation really that bad? Judge for yourself.
The summary of the bill reads accordingly:
Christopher Columbus did not discover America. Indigenous People's Day reimagines Columbus Day and changes a celebration of colonialism into an opportunity to reveal historical truths about the genocide and oppression of indigenous people in the Americas, to organize against current injustices and to celebrate indigenous resistance.
Sound like fun?
Never mind the lamentable spirit of the proposed legislation. Most disturbing is how violence can be interpreted from the last line: "…to organize against current injustices and to celebrate indigenous resistance…"
In what way, senator, do you foresee such "resistance"? Do you want native Americans and their supporters to riot in New York on said day? Do you see October 12th as a day to vandalize and, perhaps, destroy landmarks that, in your mind, represent "colonialism"?
Senator Ramos is, no doubt, angry at America. The reason remains mystifying. From all accounts, the United States has treated her well. She needs to be more grateful. She needs to ask herself, where else can a daughter of immigrants from South America rise to lawmaker status. By the age of 33?!
Speaking about Ramos' background, what country did her parents come from? You guess it…the country named after Columbus…Colombia!
All Italian Americans in New York are urged to contact their state representatives to request this bill be tossed onto the ash heap of failed legislation. That's Senate Bill S2759. A similarly worded bill, A10728, is also pending in the second legislative chamber, the state assembly. That bill is sponsored by Assemblymember Marcela Mitaynes, who represents District 51, Red Hook and parts of Bay Ridge in Brooklyn.
The senate and assembly bills to replace Columbus Day with Indigenous People's Day are currently in the finance committee. If passed in committee, the bill is to be scheduled for a vote in the Senate and Assembly. If the bill passes both chambers, then the governor has a choice to sign or veto the bill.
NYC Mayor Eric Adams with NYS Senator Dianne Savino
marching in the 2022 National Columbus Day Parade on Fifth Avenue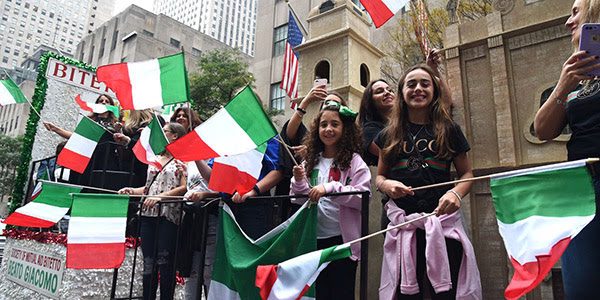 A new generation of Columbus Parade celebrants
Editor's Note: Please contact your New York State representatives to vote against changing Columbus Day to Indigenous People's Day. You can log on to the following web sites to monitor the proposed bills.
Senate bill: https://www.nysenate.gov/legislation/bills/2021/s2759
Assembly bill: https://www.nysenate.gov/legislation/bills/2021/a10728